Invisalign
---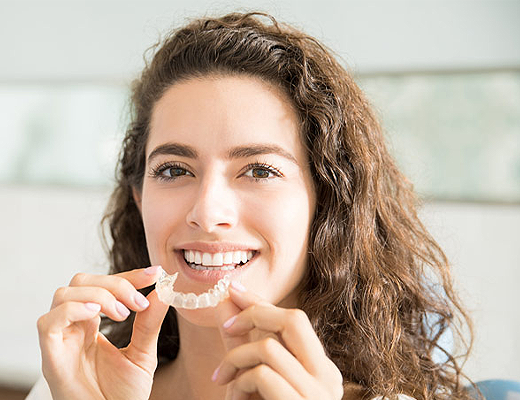 A beautiful smile can help boost your confidence and self-esteem, and Invisalign can help you achieve the smile you've always wanted. Invisalign is a modern and discreet orthodontic treatment that uses a series of clear, custom-made aligners to shift your teeth into the desired position gradually. Unlike traditional metal braces, Invisalign is virtually invisible, comfortable, and can provide faster results.
The adept team at Clark Dental Care of Chicago, IL, proudly serves the local community with premium dental care services, providing you with only the best solutions for correcting your bite and repairing your smile.
Benefits of Invisalign
Some of the benefits of Invisalign treatment include:
Discreet Appearance: Invisalign aligners are clear and virtually invisible, making them a great option for those who want to straighten their teeth without anyone knowing.
Comfortable Fit: Invisalign aligners are made of a smooth and flexible plastic material that is comfortable to wear and won't irritate your gums or cheeks.
Removable: Invisalign aligners can be easily removed for eating, brushing, and flossing, making it easier to maintain good oral hygiene.
Faster Results: Invisalign treatment can provide faster results than traditional braces, with most patients achieving their desired smile within 6-12 months.
Your Local Quality Dentist
We are committed to providing you with high-quality, personalized care and will work closely to develop a treatment plan that meets your unique needs and goals. Contact us today to schedule a consultation and take the first step towards a confident and beautiful smile with Invisalign.
During your next appointment with the proficient team at Clark Dental Care of Chicago, IL, you can be sure you receive the best care and guidance you and your family deserve.