Root Canal Therapy
---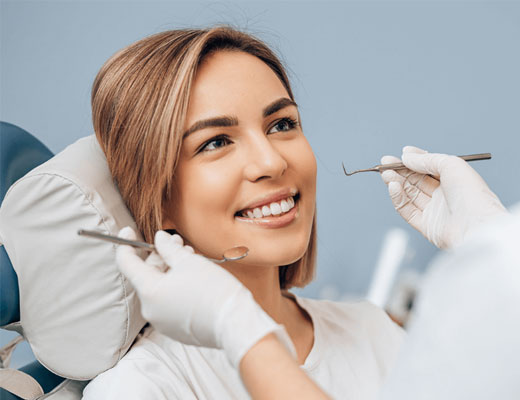 Root canal therapy is a dental procedure that involves removing the infected or inflamed pulp from the inside of a tooth. This treatment is necessary when the tooth's pulp becomes infected due to decay, trauma, or other causes.
The competent team at Clark Dental Care of Chicago, IL, proudly serves the local community with premium dental care services, turning what was previously considered a complicated issue into a routine and effective solution.
What is the Root Canal Therapy Procedure?
Our experienced professionals will carefully assess your dental condition and recommend the appropriate treatment plan.
The root canal therapy procedure typically involves the following steps:
X-ray and examination: Our dental professional will first examine your tooth and take an X-ray to assess the severity of the infection and determine the best course of treatment.
Local anesthesia: A local anesthetic will be administered to numb the area around the tooth, ensuring you are comfortable throughout the procedure.
Pulp removal: The infected or inflamed pulp will be carefully removed inside the tooth.
Cleaning and shaping: The root canals will be cleaned and shaped to prepare them for the filling material.
Filling: A rubber-like material will fill the root canals, and the opening will be sealed with a filling.
Crown placement: Depending on the tooth's condition, a crown may be placed over the treated tooth to restore its strength and function.
Your Quality Dental Care Team
If you are experiencing tooth pain or sensitivity, it's essential to schedule an appointment with our team as soon as possible to assess the condition of your tooth. Root canal therapy can help relieve pain and save a damaged tooth, avoiding extraction.
During your next appointment with a skillful team at Clark Dental Care of Chicago, IL, you can be sure you receive the best care and guidance you and your family deserve.